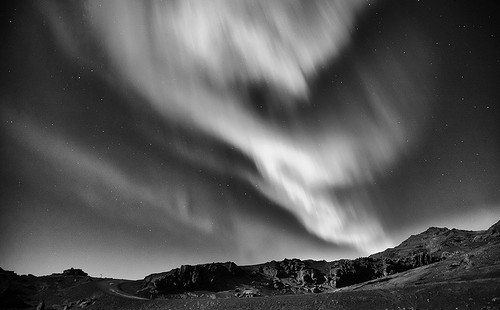 Jacob Kirkegaard
Recorded in Wilton's Music Hall, London, November 5th 2010.
An extract from Celestial Road – "a humble homage to Sun Ra. A piece created out of recordings of Northern Lights / Solar Winds / Natural Radio VLF."
Jacob Kirkegaard is a Danish sound artist based in Berlin, who focuses on the scientific and aesthetic aspects of resonance, time, sound and hearing. His installations, compositions and performances deal with acoustic spaces and phenomena that usually remain imperceptible. Using unorthodox recording tools, including accelerometers, hydrophones and home-built electromagnetic receivers, Kirkegaard captures and contextualizes hitherto unheard sounds from within a variety of environments : a geyser, a sand dune, a nuclear power plant, an empty room, a TV tower, and even sounds from the human inner ear itself.
Since 1995, Jacob has presented his works at exhibitions and at festivals and conferences throughout the world and has released five albums (mostly on the British label Touch). Jacob is also a member of the sound art collective freq_out.
---
Recording Notes
One of two cylinders recorded during Jakob's soundcheck for the Sound And Music/BBC Radio 3's Cut & Splice festival at Wilton's Music Hall in November 2010. The sounds are derived from the ionosphere and from channeling the natural Very Low Frequency radio signals emitted by lightning and interstellar phenomena.