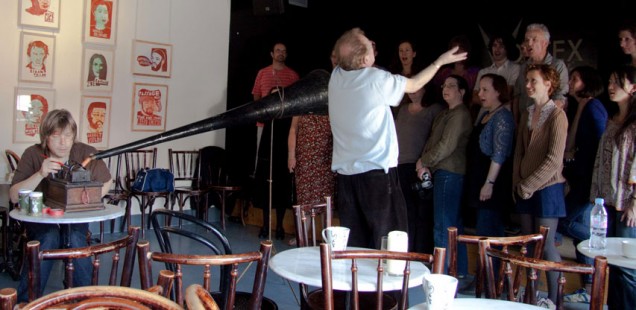 Feral Choir
Recorded at the Vortex Jazz Club, London on 21st June  2009.
Singers: Alison Trower; Nick Moura; Guiseppe; Jim Dunkley; Neil Foster; Eleanor Church; Jamie Stevens; Katehrine Godfrey; Verity Standen; Geoff Simmons; Rosie Simmons; Noel Meek; Abbie Coppard; Amanda Innis; Midori Ogura; Claire Coxhill; Richard Winstanley; Luke Stainer; Chris Renison; Hilda Chan; Ute Wassermann; Nick Hallet; Renate; Jennifer Lanier; Daniela Basilio a.o.
Directed by Phil Minton
The Feral Choir project is a series of vocal workshops with non-professionals, leading up to performances. It originated in the late 1980's when I was asked to do some workshops with 'non-singers' in the Musik Centrum Stockholm. The success of these led me to develop the idea further. The choir is not only for singers but for anyone who takes a delight in the freedom to experiment. I encourage participants to take a vocal leap and explore all vocal possibilities through exercises and improvisations, over the workshop period, leading to a concert.
Feral Choir workshops and performances have subsequently been held in many different places around the world including Berlin, Centre for Performance Research Cardiff, Musickzentrum Munich, Tokyo, Angelica Bologna, City Festival Lausanne, Institute for Living Voice Antwerp, Baltimore, Nante, Brest, Oxford, Paris, Oakland, Melbourne, St. Paulo, Rio de Janeiro, Bristol, Pau, Florence, Le Man, Trondheim, Rotterdam, Ghent, Zurich, Nancy Vandoeuvre, Poitiers, London, Amsterdam, Warsaw, Brugge, Strasbourg, and Aberystwyth.
Some of the choirs have been made up of professionals, sometimes actors and musicians, but many have been amateur groups with no previous musical interest or experience.
– Phil Minton
www.philminton.co.uk/feralchoir.html
---
Recording Notes
A two-minute wax cylinder recording made during Phil Minton's Feral Choir workshop session featuring some 26 participants. I used an original 6.5 foot phonograph recording horn, but it was placed a little too close to the choir, so that the singers in the centre of the group are somewhat over-prominent. Phil and the choir were delighted by the result and the cylinder was played back during the concert given by the choir that evening at the Vortex. No other recording exists of the workshop session.
Photo © Helen Petts