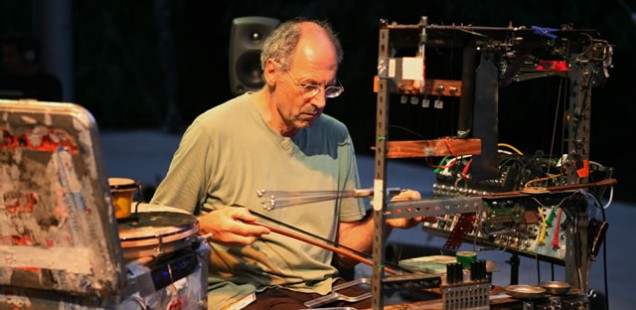 Paul Lytton
Recorded at the Calouste Gulbenkian Foundation, Lisbon, on August 8th  2010
Electro-Acoustic Percussion
Paul Lytton (b.1947, London) is a free jazz percussionist based in Aachen. He began on drums at age 16. He played jazz in London in the late 1960s while taking lessons on the tabla from P.R. Desai. In 1969 he began experimenting with free improvisational music, working in a duo with saxophonist Evan Parker. After adding bassist Barry Guy, the ensemble became the Evan Parker Trio. He and Parker continued to work together into the 2000s; more recent releases include trio releases with Marilyn Crispell in 1996 (Natives and Aliens) and 1999 (After Appleby).
A founding member of the London Musicians Collective, Lytton worked extensively on the London free improvisation scene in the 1970s, and aided Paul Lovens in the foundation of the Aachen Musicians' Cooperative in 1976.
Lytton has toured North America and Japan both solo and with improvisational ensembles. In 1999, he toured with Ken Vandermark and Kent Kessler, and recorded with Vandermark on English Suites. As well Lytton collaborated with Jeffrey Morgan (alto & tenor saxophone) with whom he recorded the CD "Terra Incognita" Live in Cologne, Germany.
 (From Paul's Wikipedia entry)
www.allmusic.com/artist/paul-lytton
---
Recording Notes
This wax cylinder recording was made during preparations by the Evan Parker Electro-Acoustic Ensemble for a concert in the Jazz Em Agosto Festival 2010 in Lisbon. The location was the outdoor stage in the garden of the Gulbenkian Foundation where Paul played various amplified objects which I recorded via his on-stage monitor. As well as metallic clattering and coiled spring sounds, Paul created animal-like noises, which make the phonograph horn sound as if it is shouting, spitting and growling. The cylinder was authentically reproduced on an Edison phonograph during the evening concert, alongside an improvisation by Paul, pianist Agustí Ferdández and myself.